**THROWBACK POST**
August 22 2013:
So very grateful to have the opportunity and option for Thomas and Lillian to attend High Desert Montessori! These are two of the quotes on the walls in Thomas' building.
Thomas loves going there and loves his teacher, Mrs. Nicole. Lillian is happy and I love everything about it. This is our 2nd year at HDMS and it was such a relief to get rid of the constant back and forth about Lillian and her IEP at the traditional public school. Her IEP went from over 30 pages to about 7 pages when we moved to HDMS.
Thomas did have some rough bumps last year, but since he switched teachers after Spring Break last year, it's been wonderful. Plus, over the summer the Friends of HDMS bought the building Lillian's class is in AND the office building next door! Now, we've got the room for a HDMS High School (currently stops at 8th grade). YAY!! We LOVE HDMS!
**************
Cornichons! Bought these thinking they were just tiny pickles. WOW! They are tart! The more I eat em the more I like em! Definitely a different flavor. Just did a search online and found: Cornichons are pickled French gherkins and not cucumbers. They are related but not the same plant race. YUM and You're Welcome!
__________________
August 22 2012:
YUM!!! Thank you Kimberly Phipps-Nichol for always thinkin of Team TLC when you have too much fresh food … Yummy maters, fresh peaches and nectarines and even some delicious dried peaches!! Lillian took some of the dried peaches in her lunch today and I had the heirloom tomato and a fresh peach today with lunch … My mouth and tummy were happy dancin!!! I'm grateful for YOU and for yummy fresh food!!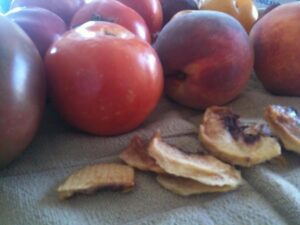 __________________
August 22 2010:
Poultry Seasoning – breakfast of champion monster trucks.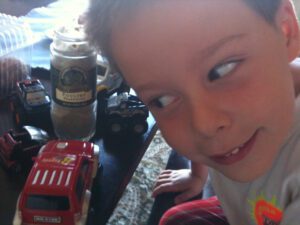 _____________________
August 22 2009:
Bloody Mary, boiled shrimp (tip: boil shrimp in beer (yummo)), salad, glass of wine, dancing with kiddos & step-father (Frank)! What a GREAT evening!!! YeeHaw!!!!!!!!!