July 31 2022
More of these delicious clouds this morning.
August 1 2022
Progression of the clouds yesterday afternoon before we got about 20 drops of rain! 😂Smelled and felt so good.
August 5 2022
After the downpour of rain last night. That was a wild storm! Lightning strikes very close to us, with the loudest booming, cracking thunder I've ever heard. One struck so close to a car in front of our place, that it caused the car alarm to go off. Lillian and I screamed, with Basil running to hide. Wild!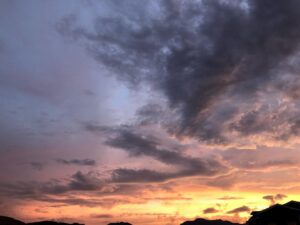 August 6 2022
I think this was Thursday, maybe Friday.
Thomas's hiking/camping trip had to end a day early due to the wild storm moving through. I didn't feel up to picking him up, so thank you times a million to Frank for doing it for me.