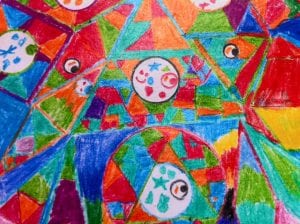 Lillian's artwork titled "Rainbow of Emotions"
Ever wonder why we sometimes see double rainbows? … from the book, "Where Would You Fly", by Lillian Darnell … I'm having fun editing. xoxo
Rainbow Love
This story is about rainbows and love. I hope you enjoy!
Once there lived two rainbows who didn't want to separate for the love of nature. Their names were Candy Rainbow and Princess Rainbow. One day, Candy Rainbow was accidentally separated from Princess. What they didn't know was the Nature fairy had split them in half.
Candy desperately looked for Princess but there was no sign of her. Meanwhile, Princess was where Candy wasn't. She was anxious to find him but the Nature fairy wouldn't let her. Candy got up to ask the Nature Fairy. What the fairy said, "No, I haven't seen her. I didn't separate you."
Candy thought the fairy was being suspicious. Princess started suspecting the fairy. After a year past, they accidentally ran into each other. When the fairy found out, she was furious.
The fairy decided to put Princess invisible so she couldn't be seen when they bumped into each other. Candy tried to explain to the Nature fairy that rainbow magic was more powerful than fairy magic. Since the nature fairy wouldn't listen, Candy decided to show her what he tried to explain.
His plan was to use his magic and power to get Princess out of the invisible world. So when Princess saw he was stretching out to use his power, she decided to reach over and touch his stretched arc. Candy felt lighter somehow but he didn't know how.
Suddenly the invisible spell broke. The fairy was shocked at what happened but the fairy had to vanish. "It was me who helped you, Candy", said Princess softly. "Thank you, Princess!" and the rainbows' love was returned.
Princess thought if people saw them, it would be easier to have one rainbow be invisible. Princess decided to go invisible but Candy was able to see her. Every once in awhile, Princess appeared behind Candy. That is why some people see double or triple rainbows.
(written when Lillian was 14 years old)
Would you like to help us in our goal of pre-selling 50 books? Go here …
https://www.LillianDarnell.com/author