April 24 2019: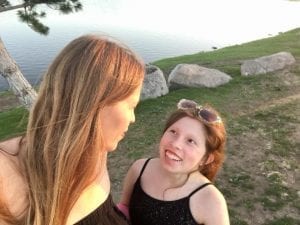 Reasons I KNOW it's time for a Lillian break:
I've been can't-move-my-body exhausted (with a side order of pounding headache) every night this week.
I turned the heat on last night instead of the air conditioner … it was a balmy 75 degrees almost all night! 🤪😂 Realized what I had done not too long before getting up.
One of the 3 times Lillian woke me up, she asked for throat spray (homemade with cold spring water and peppermint essential oil) …. She got one good spray directly up her nose! Oops!!! Sorry Lillian …
I had a peanut butter & jelly sandwich for dinner tonight.
The Romano Duo picked up Lillian this afternoon after our library volunteering. She's off to spend 3 nights with them; rejoining Thomas and I on Saturday. Just in time for movie night! Hallelujah … It's break-from-Lillian time! Love you to infinity Lillian! And, grateful for our breaks!! (Photo from May 2018)