July 6 2016:
Rosey got a bath today to get ready for our trip!! Going through the car wash is so fun!
If it feels right we would appreciate love, good juju, prayers for our car, Rosey, and our journey. Rosey is 15 years old and we need her to take care of us and get us there and back safely and smoothly. Oceans of gratitude!! xoxo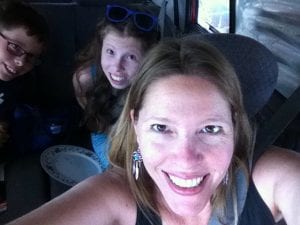 July 8 2016:
Whew!!! We made it somewhere!!! Team TLC is in Surprise, Arizona! We left Reno at 7:00 this morning and at 9:00 tonight we came upon Surprise. We said, "yes, we'll take it!"
Sorry for our silence. I do not pay for data so we are not online again until we have wifi. Onward to Texas tomorrow. Does anyone know a good stopping overnight point between Tucson and San Antonio via I-10?
July 8 2016:
Surprise, Arizona to El Paso, Texas … We made it to Texas! We'll be in San Antonio tomorrow late afternoon. Amazing rock formations in Arizona and New Mexico. We will come back when it's not so hot!!
Lillian and I don't do well in this high heat! Rosey was even getting too hot! This is a ton of responsibilities for one adult and I am learning so much! Yet, I have so much fun traveling with them. They are such wonderful teachers of living in the moment. My heart swells to overflowing with love …. xoxo
I am writing like the wind before I get this tired mind and body into bed and be ready for one more day of driving tomorrow. I am compelled. I have just got to document some of what we are experiencing and talking about.
Thomas had such amazing thoughts to share yesterday and Lillian also yesterday morning before she got a tummy ache. Although we are having a ball and laughing tons and enjoying this beautiful land as we drive by it; this has not all been fun and easy, and it was my goal to have this trip be a learning experience for me of not knowing, not planning, and just going. That's certainly not for everyone.
Yet, I felt this was important for me. It's a huge step out of my comfort zone. One step closer to trusting myself, trusting internal messages, and letting go of how it's supposed to be done. I've never driven this far alone … Much less alone with Thomas and Lillian. Plus driving this far in a 15 year old car. Skating through this trip on less than a shoe string budget and letting go of worry that the string will hold tight …
I'm having moments when I'm so tired I'm shaking and wondering what in the hell I'm doing ….. Yet, I know. I may not know on the surface right now; but deep down, I know why I do what I do. And then we share these amazing moments together with wonderful comments from Thomas and Lillian and moments full of so much love that further each one of us. Moments where I'm so hot and exhausted, I have visions of taking an ice bath! Definitely some amazing growth for all of us happening! WOW! xoxoxo
July 9 2016:
El Paso to San Antonio! We made it about 5:30 this afternoon! Been a whirlwind since.
There is so much unexpected loving-kindness flowing my and our way … WOW!!
I just drove Team TLC 1700 miles … I did it! Now. Where's my bed?