December 25 2016:
The most cherished and beloved gifts. Part 1
Lillian created a Nature Book for me that caused my eyes to sweat.
"Grass is healthy food and beautiful.
Sky is a beautiful ocean in the sky.
Flower is a pretty thing in nature.
Trees are old wise spirits in nature.
Ocean is a reflection of the sky.
Night is a beautiful time.
Animals are people and nature like us."
I wrote a poem for each of them and made it into a wall hanger.
Thomas: "Knowledge beyond grasp, Gentle and tender heart, Deep knowing of the soul."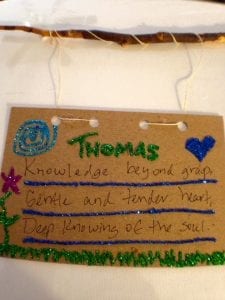 Lillian: "Beauty shining within and without, Depth and strength I know not, A light shining brightly for the World."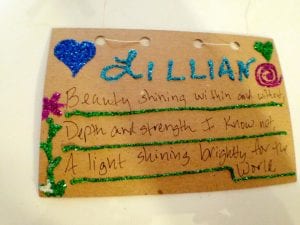 ____________________________________________
The most cherished and beloved gifts. Part 2
A handmade card from Lillian and a poster size drawing from both Thomas and Lillian.
The card is full of original Lillian nature quotes … Plus one from Thomas!
"A sunset is nature's art.
Rainbows are nature's fancy artwork.
Night is art to the human's eye.
Seasons are nature's beauty.
Wind is nature's music.
Space is a beautiful art.
Snow and ice are nature's quiet time." -Lillian
"Nature is full of awesome animals." -Thomas
__________________________________________________
The most cherished and beloved gifts. Part 3
Lillian made Thomas a Nature Book also.
"A cat can make several sounds including purr and meow.
A dog likes a lot of outdoor exercise.
Fish are living in almost any body of water.
Mouse like a lot of food scraps including cheese.
Ducks are social.
Cows help humans by making milk and eating grass.
Humans can dress up as animals and wear animal headbands. We are animals." xoxo
___________________________________________________
The most cherished and beloved gifts. Last Set of Pictures
Lillian made a Christmas card for Thomas and a noisemaker for me!
Many of you know that Lillian has been working on having flexibility. Something that is extremely difficult for her. At about 9:00 pm Christmas Eve she was still working on handmade gifts. She was determined to stay up until she was done!
She decided at 11:00 that she would go to bed and finish in the morning. YAY for flexibility entering a wee bit!! I simply knew the next morning that it would be best to not even suggest waiting until after opening gifts for her to finish.
So … our Christmas Day did not begin until about 11:00 as we waited for her to be finished …… And, we were all okay with that …. xoxoxo
_____________________________________________________
There were a few non homemade gifts too!! Thomas and I can play tennis now!! And as soon as it snows he can go sledding. Plus a calendar and a sweater he just loves.
Here's a great gift idea for someone with sensory issues ……. a soft fuzzy sweater. He asked me if he could wear it all week. Great job Romano Duo on that gift!!! Thanks to Super Owen for the great book too!
Lillian got a box of one of her favorite cookies, a great new LEGO set, some books, and a calendar. Thanks to Super Owen for the great book.
___________________________________________________
Gifts beyond the handmade …. I received some great books, a new sheet pan, oh so comfy socks, and since I'm not able to have a real camera right now, a few awesome accessories for what I do have!
Can't wait to read the books! Thank you Frank for this amazing pan!!! Baked rosemary fries in it last night and they were amazing.
Thank you Olivia for these yummy socks!! And thank you Momma for the lenses. I finally got to go for a walk this morning and tested the macro. Love, love, love it!!!!