March 12 2018:
Team TLC sunset walk. Incredible variety of beauty by way of colors, clouds, ducks, coots, the sun, and dried mud. And this wee little wood fragment heart.
Check out the heart shaped mud clump I found.
At Thomas' request we had a great time moving through feelings and emotions as we dug up chunks of dried mud. And we brought our clumps home with us! Just cause.
March 16 2018:
Trees and snow …. Nature's art show is incredibly amazing and beautiful today.
March 16 2018:
This lil cutie that I get to walk … She loved the snow today! Bouncing through it and chomping big mouthfuls. So fun watching her!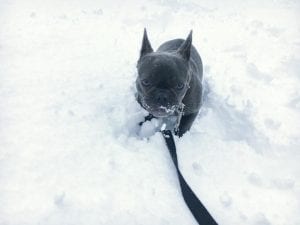 March 16 2018:
Fun in the snow …. Beautiful and fluffy soft!!
Bright blue background is incredibly beautiful! And look! I found a cotton ball tree. Haha!