November 5 2018:
Fairies and Photography and Acceptance to Zig Zag!!! Sounds like a great trio to me! Lillian's waving the sparkly, mystic filled wand over them!!
There's fairy dust in the air for the months of November and December as you can get all three for a magical amount! Let me know …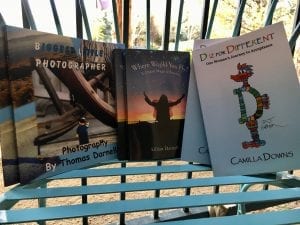 All three books for $40 + $5 shipping for a total of $45 (regularly $55 for all three).
or
10% off any one book + $3 shipping
$13.50 for D iz for Different – One Woman's Journey to Acceptance – $16.50 total with shipping
$18.00 for Biggest Little Photographer – $21 total with shipping
$13.50 for Where Would You Fly and Other Magical Stories – $16.50 total with shipping
You can use this PayPal link. Just enter your amount and note which book(s) you would like and your mailing address.
Or
You can also comment here with your email address if you'd like a different payment method.