May 23 2021
My best friend, Lillie Powell Salsberry, and I had season passes to the World's Fair when it was in New Orleans in 1984 (lived in Houma, LA at the time). We went often, and rode this at least once. We had so much fun visiting all the exhibits! Wonderful memories!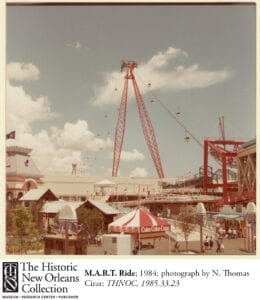 From The Historic New Orleans Connection facebook page:
"This lost New Orleans landmark was around for less time than any of the others we've recently discussed. The system of gondolas was created for the 1984 World's Fair.
Two 360-foot steel towers used to stand on opposite sides of the Mississippi River, one planted near Blaine Kern's Mardi Gras World in Algiers and the other next to the present-day Morial Convention Center. A steel cable connected the towers, carrying small pods called gondolas that ferried people to and from the 1984 Louisiana World Exposition. Soaring over the waterway, passengers of the Mississippi Aerial River Transport (MART) system could reach the other side of the river in under five minutes.
The MART's designers, Kern and architect August Perez III, hoped that the cable cars would become a permanent transit option for commuters from the West Bank, but the '84 Expo was a financial failure, and ridership never provided enough funds to make the system viable. The MART outlived the fair by only a few months. The steel towers, however, remained part of the city skyline until 1994, when the US Coast Guard ordered their removal. If you're feeling nostalgic, you can visit the one gondola that's grounded in front of Nesbit's Poeyfarre Street Market in the Warehouse District.
For more lost landmarks in New Orleans history, visit our recent First Draft story: …"
https://www.hnoc.org/publications/first-draft/stories-behind-16-lost-new-orleans-landmarks