November 13 2021
On this day in 2005, the world was blessed with an amazing human. Thomas Arthur Darnell swam into the world during the hour of 9:00 PM PST.
I was blessed to live in an area that had an OB with midwives who built a Birthing Center attached to her offices. It also happened to be less than a 10 minute drive from our home. When contractions moved along, we met the midwife at The Birthing Center, she filled the large bathtub, I melted into the comfort of the water, and shortly after, Thomas joined us.
We were there for about 3 hours, and then back home in the comfort and coziness of our own home. This is a cherished memory, held close to my heart.
Dearest Thomas,
I know most parents say that having a child, being a parent has changed their life for the better. Even that their child has taught them the true meaning of unconditional love. I join other parents in embracing this message.
If one were to look at my life before you, and the years after you became a part of my life, one would see drastic changes. These are not mere words I say to fill the page of your day of birth message. They are truer than true.
You continue to open my eyes and heart to the true meaning of embracing all people, discarding archaic language and thoughts that serve to hurt others, and following one's heart. Whether that following is a hearty "Yes", or a solid "No. How liberating is that??!!
I am overflowing with joy that you joined our family on this day in 2005, deeply proud of you, and excitedly looking forward to your future. You are an amazing and wonderful person.
Thank you for being my son, Thomas.
Happy 16th Birthday!!
I love YOU!!
Camilla
Mom
November 13 2021
Key lime cheesecake cups with lots of lovely gifts. 😋😋😋 The Romano Duo and Robert joined us, but I completely spaced on photos of them, or with them! Ugh!
Thank you to Grateful Gardens for the amazing raw, vegan cheesecake cups. They were perfect!
Thomas got t-shirts, posters, book of piano music, computer stand, a custom photo book, homemade card, and money. He is very happy with his gifts. 🎉❤️❤️❤️🎉 (He has a hard time smiling with the Herbst appliance in his mouth. Makes it difficult!)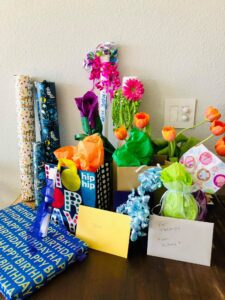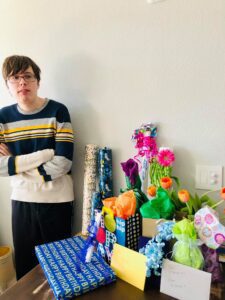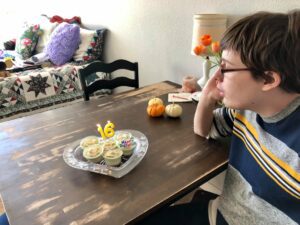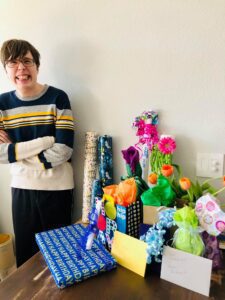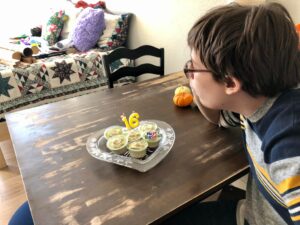 Plus the photo book I made: https://www.mixbook.com/photo-books/interests/blank-canvas-26102580?vk=OhyKmXWORxWW4ZKpR6O2