August 20 2020
We're getting smothered by the smoke from the California fires. This was yesterday. Looks about the same today. Sending much love to the people and animals whose homes this is affecting.
September 6 2020
The sky yesterday, looking the same today. We were finally clearing, with no new fires in California. That changed yesterday. New fires, more smoke.
September 12 2020
I'm so glad I went for that hike on Wednesday; which was the only clear blue sky day this week. Yesterday we were in the orange and red. Woke up this morning to very unhealthy. I added a black arrow to the satellite image showing where Reno is located. I've heard from a friend in Australia, that some of their firefighters are on the way to help.
My arrow points to Reno. Except I overshot it a bit. We're actually closer to the state border.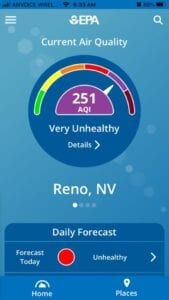 September 14 2020
I stepped out to go pick up dinner ….
September 15 2020
I ask Thomas what he wants for dinner. He tells me, then after I let him know there are leftovers, he says he will have the leftovers instead.
I then walk into the kitchen and make him both dinners. I made two dinners for one person. I'm losing my mind! Is anyone else doing weird stuff like this? 😳😂🤪 The smoke, the pandemic, and people acting like fools are beginning to get to me. 🤣🥴😂 … The smoke has been the tipping point for me.