**THROWBACK POST**
December 23 2015:
One step closer to having the storage unit empty and having everything condensed into this beautiful, comfy, cozy 810 square foot love shack! Everything is out except for a couch that the Salvation Army is scheduled to pick up, and a desk, chair and filing cabinet; which will come here as soon as I get rid of the hide-a-bed couch. Plus, a few boxes in Mom n Frank's storage unit which I'll soon go through and purge. YAY, YAY, YAY!!!!
__________________________
December 23 2014:
Quinoa meatloaf tonight!! Chopped some fresh spinach into tiny pieces and snuck in it too! Shhhhh!! Don't tell Lillian! They both loved it! YAY!!
____________________
December 23 2013:
A welcome and cherished reminder from the girls at Urban Sparrow.
Live in the moment and Different iz Good nestled snuggly with a perfect heart. Many months ago I connected with the Urban Sparrow gals with the intention of having them make Different iz Good necklaces as a fundraiser for the DIG 501(c) 3 …. I wasn't able to pay for the initial proof and the idea didn't move forward.
Monica McDivitt must have shared with them about my situation …. as I just got this in the mail sent with their love! Y'all all bless me so much I'm overflowing with love! I shall wear this EVERY day until TEAM TLC is in our new home … as a reminder of love, believing in dreams and that doing it different is absolutely, positively OKAY! If you get any spending money for Christmas, please visit the Urban Sparrow gals as a percentage of sales from select jewelry goes to nonprofits.
December 23 2010:
Hey that's me! If you are out and about today in Reno, could you pick me up an extra copy? Thank You!!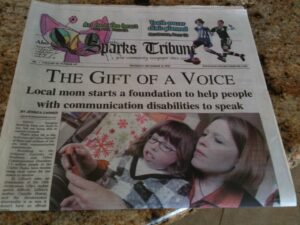 Here's the Different iz Good Christmas card for anyone who may have missed it yesterday! Feel free to share with your friends, family and connections! Hope y'all enjoy it!
___________________
December 23 2008:
Lillian's latest post!
https://pinkelephantbooks.com/2008/12/23/butter-has-to-be-eaten-real-fast/