May 1 2018:
There goes a piece of my heart. Thomas is headed to spend nearly 2 weeks with The Romano Duo in Surprise, Arizona. He's incredibly excited!! I love love love that young man. Gonna miss him!!
He made it!!! The Romano Duo met him at the gate in the Phoenix airport! Now for the 45 minute drive to Surprise. Yay!!! He's gonna have a great time! So glad he gets this respite!! Lillian's turn at the end of the month.
May 2 2018:
He's having a GREAT time!! I'm so happy for him! Hiking on the Waterfall Trailhead this morning with Frank and swimming this afternoon. Thanks so much to The Romano Duo for the pictures and treating him to such fun! xoxo
May 5 2018:
Thomas is thoroughly enjoying his respite time with The Romano Duo (in Surprise, Arizona)! More swimming and a trip to the library (pictures are of the lake outside of the library). xoxo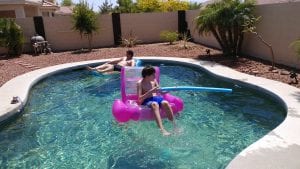 May 9 2018:
Thomas continues to enjoy his vacation with The Romano Duo … Lake Pleasant a couple of days ago. Looks beautiful!! Also, I think I may have been disowned as I have not heard from Thomas in two days. (My mom is keeping me up to date though … Whew!) xoxo
May 11 2018:
The one called Thomas is on his way back to Reno via a car trip with The Romano Duo! Set to arrive tomorrow afternoon. On Wednesday, he got treated to a drive to see the Grand Canyon!
This Thomas vacation was a great and uncomfortable learning experience for me …. AND I didn't even go anywhere! I have to admit I was a tad bit jealous and sad as we both have had the Grand Canyon on our bucket list for quite some time! And, I wanted to be the one he saw it with first. Yet, now he can be the tour guide when he and I get our chance to see it together. xoxo
May 12 2018:
He's home!!! xoxo