February 15 2020: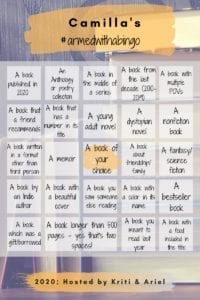 Thank you to my book blogger friend Kriti for having me on her fabulous blog. The tables are flipped and I discuss being an avid reader this time … Kriti writes amazing, very thorough book reviews. If you're a book lover, you may want to head over and check out her blog ..
This month's #ArmedWithABingo feature is my author friend, Camilla.
How's reading going this year?
Reading is going great! I'm really enjoying the book reviews and interviews you share, Kriti. I get great book suggestions from you!
Thanks Camilla! 🙂 What made you join #ArmedWithABingo?
#ArmedWithABingo looked and felt different than anything I'd ever seen. I'm drawn to different ways of doing things …. Go here to read the full interview … It's about a 2 minute read …