April 6 2020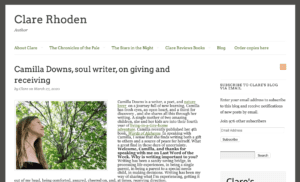 What 5 words best describe my writing style and what's the scariest thing I've ever done? Thank you to Clare for this thoughtful interview on her book blog …
"Delightful! Do you write for yourself or for a particular audience?
To date, I have always written for myself. Writing is how I process and experience life. The feedback received when sharing what I write is what encouraged me to pursue publishing the content.
What's the scariest thing you've ever done?
Making the decision fourteen years ago to leave my marriage, becoming a single parent to two children; 1 year old and 5 years old at the time. I had no idea how … Follow the link below to read further …"