**THROWBACK POST**
August 18 2015:
Just asked for a 2 day extension for the article I'm contributing to the Australian Institute on Intellectual and Developmental Disabilities.
I am extremely, extremely grateful for the full plate of opportunities and just to spice it up I've got side dishes of trying to find us an affordable place to live by 9.15, facilitating workshops, subbing at HDMS as needed, and figuring out how to fit in 4 therapies a week for Lillian.
The rental market is CRAZY here and the prices are outrageous. When I do find a place, before I can get an app completed it's gone! I am truly blessed and grateful and know that the perfect place will land in front of my eyes very soon! If it suits you, please send good juju to Team TLC finding a place before The Romano Duo leave on 9.15. Thank you …. xoxo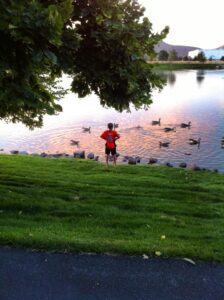 **December 8 2021** We did find that perfect place. Pictured above. We lived there from September 2015 through November 2019. We loved walking around the lake nearly every day. It was tiny, about 810 square feet, a one bedroom, one bath. It was the best I could do at the time. We adored living there, but were more than ready to move on to having 2 bedrooms and 2 bathrooms.