April 7 2020
Thank you to Lynne for this lovely review of Words of Alchemy …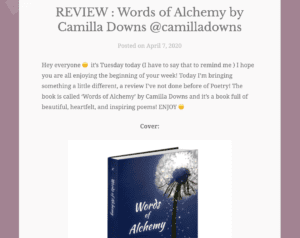 Just finished reading this review. Now I have liquid gratitude leaking down my cheeks. To say I am deeply grateful, does not do justice to how thankful I am for this lovely person taking the time read my book and write such a beautiful review. Thank you, Lynne!
"This book is filled with inspiring, heartfelt, warm, consoling, touching and thought provoking poetry which will warm you to the core!
I honestly think this book of poetry would be an amazing self help book with a ….